The Beausite hotel is located on one of the most spectacular white sandy beaches in Egypt overlooking the clear blue azure waters of the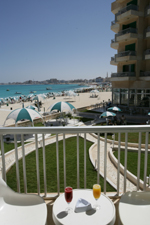 Mediterranean.



A privately owned and family run hotel is a 20 minute drive from Marsa Matrouh airport. For those of you who prefer to discover the scenic wonders of the North Coast it is only 524 Km drive from Cairo and 290 Km. drive from Alexandria.



The Beausite was inspired by Dimitri Madpack, who with his vision and foresight, opened the hotel in 1959 in one of the most amazing locations along the North coast of Egypt. With successive developments and the persistence to improve the hotel developed it into the wonder that it is today.



The hotel is the perfect place to relax, and enjoy this haven where the calming sea breezes blend with the beauty of the clear sapphire waters that lap onto the private white sandy beach.



Alternatively, you can take a journey of discovery and wonder at the historical sites located in the surrounding areas with the help of our tour desk which can plan your sightseeing adventures in Marsa-Matrouh (Cleopatra rock, Agiba beach and Romel museum).



The Beausite Hotel offers modern, well-appointed rooms and apartments rich with traditional Egyptian style and customs and a warm and welcoming atmosphere.



With a variety of restaurants to chose from there is something to suit all tastes. Enjoy a romantic dinner in 'La Hutte" located on the beachfront, light snacks in the "Panorama, your choice of fresh sea food delights in the "Fish Corner" or simple but tasty meal in the "Trotoire".